Vaxis is a company that has been working in the wireless video transmission systems sector since 2008.
These products, through its resellers, are available in approximately 30 countries around the world.
Thanks to its technologies and a continuous commitment to Research and Development, Vaxis has achieved great recognition.
Vaxis video transmission equipment is highly appreciated and used in the production of international films, commercials, documentaries and events, making it an excellent tool to support any professional director and videomaker.
Vaxis Atom
In 2020 Vaxis launched the Atom 500 HDMI, a highly anticipated wireless video transmission system due to its affordable price, a robust design that makes it durable over time and its reliable signal transmission.
The 500 SDI model is also available in Italy, again from the Atom line.
Vaxis Storm
The products of the Vaxis brand are those of the Storm line, characterized by transmission systems with zero latency.
Within the Storm series we find:
• The Vaxis Storm 1000
• The Vaxis Storm 3000
These products are capable of transmitting the signal over long distances and the fact that they are zero latency makes them essential for those who want to achieve perfection.
The Storm line has accessories supplied with the transmission system, for example the 5.5″ and 7″ monitors, which can be connected to the transmitter instead of one of the receivers (each transmitter of the Vaxis Storm line can support up to 8 receivers ); a channel scanner is also available.
The Vaxis Storm Scanner allows you to identify the channel with the best frequency, so as to manually select the channel in the transmitter and receiver.
FIND OUT WHERE TO BUY VAXIS WIRELESS VIDEO TRANSMISSION SYSTEMS
If you are a dealer and you would like to sell Vaxis products, sign up on our B2B website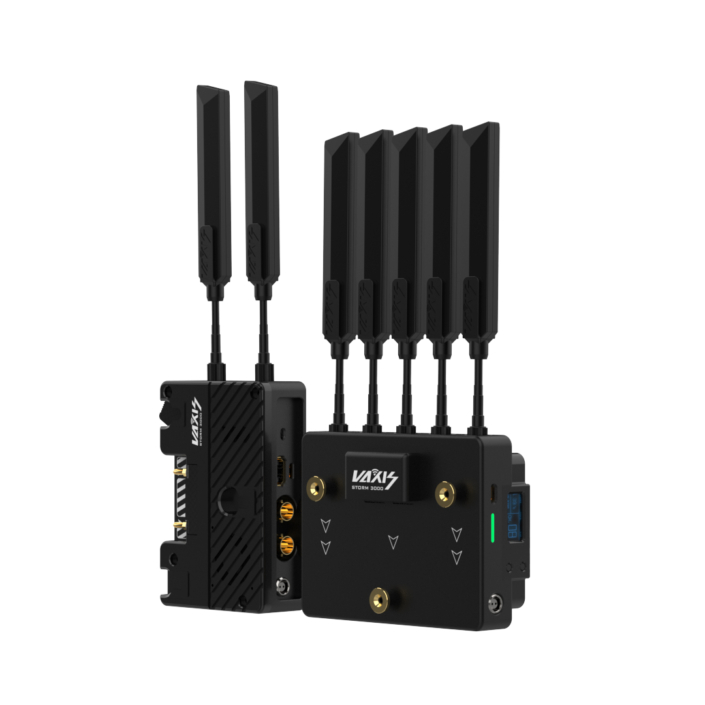 FIND OUT WHERE TO BUY VAXIS PRODUCTS
If you are a dealer and you would like to sell Vaxis products, sign up on our B2B website