Wandrd is an American company born from the idea of the Cope brothers, photographers and travelers in search of the perfect backpack.

It makes high quality backpacks and bags that are extremely comfortable and functional for photographers but just as comfortable on travel and adventures.
Wandrd's mission is:
Create products that inspire people to live passionate lives; explore the world and live a life full of interests.
Wandrd products are therefore made for photographers, but not only.
They adapt perfectly to multifaceted people, always ready for adventure.
The most famous Wandrd products are:
PRVKE series
The first product launched by the Cope brothers. It offers everything a photographer needs and thanks to the innovative
design and high quality materials it doesn't stop there. In fact, it is also perfect for many other situations thanks to the included equipment, including: laptop case, bottle pocket, safe pocket for passport or documents and much more.
Series HEXAD
Two really spacious backpacks/bags, suitable for leisure or photography trips. They are available in different capacities of 40, 45 or 60 liters, they are extremely resistant and designed to make transport agile despite their size.
VEER
A truly special backpack. This backpack by Wandrd has a capacity of 18 liters when open, but can be folded and only occupy 15x23x7cm when closed. It is equipped with an inflatable backrest, which makes it extremely comfortable and it is also possible to buy an accessory (also inflatable) for the safe transport of a camera..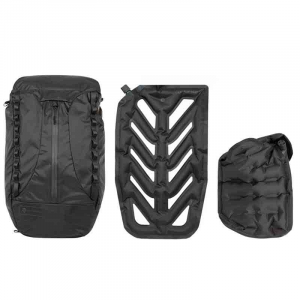 DUO DAYPACK
Sturdy and elegant, it allows you to carry your photographic equipment without risk. Inside there are several pockets for accessories, cables and a laptop compartment, but the most interesting feature is certainly the retractable solution for carrying a camera
and a lens.
FIND WHERE TO BUY WANDRD PRODUCTS
If you're interested in becoming a Wandrd reseller in Italy, please register on our B2B website